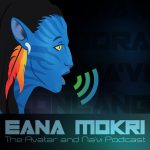 This is already Eana Mokri's 10th episode! Ftxozä si ko! :D
In this very special episode we're proud to present to you interviews with Jeremiah alias Ralu from Cirque du Soleil's TORUK and some of this year's Avatarmeet attendees in Munich!
00:00:51 "Tsu'tey's Path" issue no. 5 available now
00:01:46 Reactions to the show and meetup of the Avatarmeet attendees
00:09:58 teaser of the radio play "Reypaytuna Syulang" (see links below)
00:19:18 Interview with the meetup organizer Ikxeru alu Sven
00:25:03 Interviews with Jeremiah Hughes alias Ralu
00:43:48 New blogpost by Karyu Pawl with new Na'vi words ("word-Christmas"! :D)
Watch on YouTube | Listen on Spotify | Listen on iTunes
Special and very heartfelt thanks go out to Lightstorm Entertainment and Cirque du Soleil, especially Jeremiah Hughes alias Ralu & Janie Mallet (publicist/press and media relations for CdS) and of course all Avatarmeet attendees from this year's meetup in Munich.
Listen to the radio play "Reypaytuna Syulang" here:
– Na'vi version (narrated by Karyu Pawl himself!): https://www.youtube.com/watch?v=sCzffzePHMY
– English version (narrated by Prrton): https://www.youtube.com/watch?v=lItQVoT9KoY
– German version (narrated by Sey'syu): https://www.youtube.com/watch?v=BbaeOZmg8U4
Want to learn the Na'vi language or just chat with us about Avatar and Pandora?
Kelutral.org: http://kelutral.org
We're open for suggestions! If you have any, please leave them in the comment section below :D
Have you been to CdS's awesome show "Toruk"? If yes, what did you enjoy most about it?