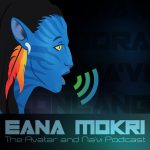 The things we couldn't yet talk about in this episode: The latest Na'viteri post, Avatarmeet in Munich and Cirque du Soleil's Toruk show (with exclusive interviews) and the "Reypaytuna Syulang" Radioplay.
These topics will be discussed in future episodes! :D
The things we did talk about in this one:
3:04 General Chat about Avatarmeet / meetups in general (organisation, cosplay, saylahe)
21:26 Na'vi language conversation practice (word of the cast: txasunu)
Watch on YouTube | Listen on Spotify | Listen on iTunes
Want to learn the Na'vi language or just chat with us about Avatar and Pandora?
Kelutral.org: http://kelutral.org
We're open for suggestions! If you have any, please leave them in the comment section below :D
Peu txasunu ayngaru?