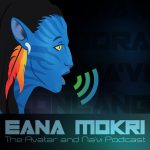 Eana Mokri's premiere episode is here!
This episode's topics:
0:43 Introductions
3:10 "Tsu'tey's Path" comic by Dark Horse Comics
17:05 AMD CES footage
25:30 "Pandora: World of Avatar" Original Sountrack by Disney and late James Horner
32:30 … and a bit of Na'vi practice discussion about that.
Watch on YouTube | Listen on Spotify | Listen on iTunes
Want to learn the Na'vi language or just chat with us about Avatar and Pandora?
Kelutral.org: http://kelutral.org
Listen to the "Pandora: World of Avatar" OST on iTunes/Apple music: https://itunes.apple.com/us/album/pandora-the-world-of-avatar/1446591785
AMD CES footage: https://www.youtube.com/watch?v=bibZyMjY2K4&t=1980 We're open for suggestions!
If you have any, please leave them in the comment section :D